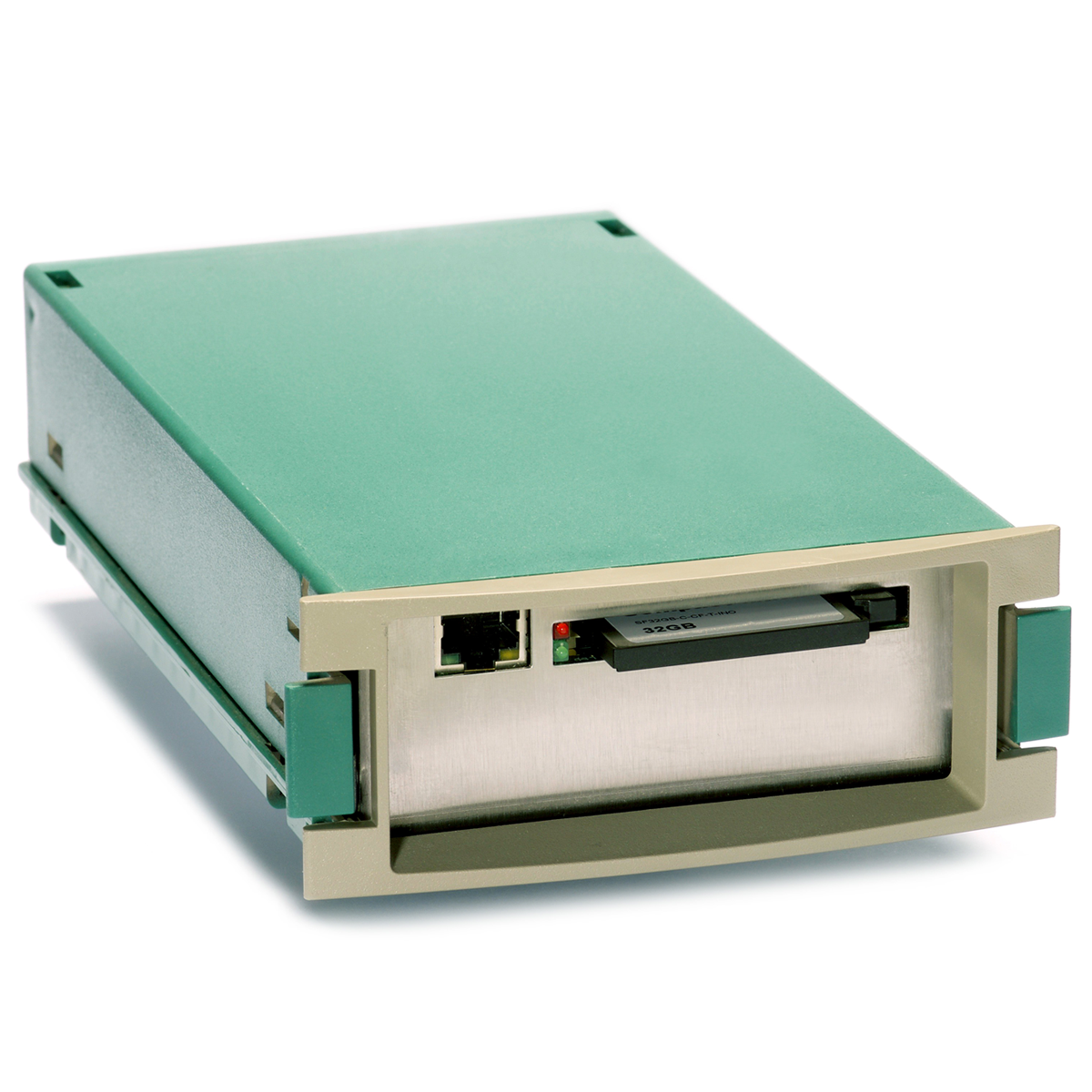 Image shows fixed disk SCSIFlash drive replacing RZ series drive installed in customers supplied DEC Storage Works caddy. SSD technical support can assist in supply of Storage Works caddy & swap out services if required.
SCSI Flash (CF) RZ29 / RZ26 Storage Works replacement drive
The CF (Compact Flash) based SCSIFLASH drive allows the CF Cards up to 64GB (SLC) and 256GB (MLC) to attach to the SCSI bus. It provides a solid state, drop-in replacement for SCSI hard drives. Network option enabled through RJ45.
FLASH2GUI - Optional ethernet support for centralised backup & restore capability available removing the need to rotate media. Primary data storage is always written to the CF card. No software change to the host required.
More details on FLASH2GUI backup & restore software click here
Solid State Disks Ltd, design and manufacture the Solid State SCSI SCSIFlash™ drive
Features
The SCSIFlash™ drive can offer solid state drop in replacements for the following mechanical legacy DEC disk drives on the following Open VMS versions
Emulation ID
Model
Based On

OPEN VMS Version

5.5.2

5.5.2H4

6.0

6.1

6.2

7.1

7.3.2

11
RZ29
IN DEV STATUS
IN DEV STATUS
NT
IN DEV STATUS



IN DEV STATUS

55

RZ23
NT
IN DEV STATUS
98
RZ24L
NT
IN DEV STATUS
107
RZ29B
ST15150N
NT
112
RZ29L
ST34371N
IN DEV STATUS
IN DEV STATUS
NT
IN DEV STATUS
151
RZ28M
NT
IN DEV STATUS
161
RWZ52
IN DEV STATUS
IN DEV STATUS
IN DEV STATUS
NT
IN DEV STATUS

IN DEV STATUS
Support for all models: VAX Station 4000 inc RWZ01, RZ23, RZ26, RZ29 and RZ87
Preformatted hard disk emulator for fast and easy system reload
Small format PCB converts Compact Flash Media to appear as an VAX 4000 SCSI device on a Host's SCSI bus
3.5" form factor PCB which will replace any 3.5" disk drive or larger drives with adaptor
Will fit in a 3.5" disk slot using the same mountings
SCSI Host will typically see the device as an VAX Station SCSI disk drive of any emulation
Board is low power, using 5V only, and has an optional add-on display and push button user interface
Microcode is field upgradable via integral serial port
Optional integration support available if required
Additional Ethernet backup and restore capacbility available to replace the traditional manual rotation of media
Please click the link below to see the Solid State Disks FLASH2GUI Youtube channel. This offers a demonstration of how the proprietary FLASH2GUI software used alongside the Network SCSIFlash drive can offer a a bit for bit image copy of the data allowing backup & restore network capability, alternative drive select options, and also capacity and blocks select features.
The embedded Flash2GUI Image Editor allows image files (.img) to be sent from the SCSIFlash drive to a local onsite PC or server. Allowing the unpacking, editing, and repacking of the imaged file. This file can then be resent to the SCSIFlash drive as new data file.
Solid State Disks FLASH2GUI Youtube Channel here